It's been a busy two weeks!
At the same time that my friends and talented colleagues have been helping me spread the word about my new book and about the story of Father Stanley Rother's life through this Blog Tour -- I've also been blessed by participating in several local book signings and presentations, including a Sunday Mass visit to Father Stanley's family parish, Holy Trinity in Okarche, Oklahoma!
Don't assume you won't hear about my book any more, but we'll definitely take a break from talking ONLY about "The Shepherd Who Didn't Run."
Let's just say that I am ending the Blog Tour with a big bang!
Donna-Marie Cooper O'Boyle
needs little introduction. Many of you already know her many books, including her recent memoir, "The Kiss of Jesus." She is also
a frequent guest on EWTN television and radio. And she hosts EWTN's "Everyday Blessings for Catholic Moms" and "Catholic Mom's Café," not to mention a regular contributor to a wide range of newspapers, magazines, TV and online media outlets worldwide. Did I mention that she's also a popular speaker at national conferences and retreats?
She is also a generous friend who took the time to host today's final Blog Tour stop...
+ + +
My friend and fellow author Maria Ruiz Scaperlanda just released a book The Shepherd Who Didn't Run: Fr. Stanley Rother, Martyr from Oklahoma.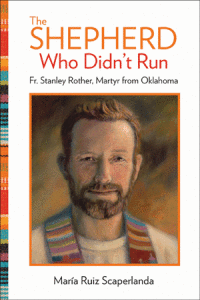 I have endorsed this fine book. This is what I said:
In this edifying and inspiring biography of Father Stanley Rother, priest, missionary, and martyr, the author draws us into the small town of Okarche, Oklahoma and the village of Santiago Atillan and unfolds one man's faithful journey. She illustrates how God raises the faithful to the ranks of sanctity and how every small loving act of service deeply impacts lives. A must read.
I am including an excerpt. But, first here is a little about
Maria:
In the past 30 years, María has been published broadly in the U.S., including the New York Times, Our Sunday Visitor, St. Anthony Messenger, Columbia, and other national and diocesan publications.
Maria's work as a Catholic journalist has taken her on international assignments in Central America and the Caribbean, the Middle East, and throughout Europe. But perhaps her favorite assignment was covering Pope John Paul II's historic visit to her native country, Cuba.
Her primary life-time assignment, however, has been as wife to Michael for 34 years, mother to four grown children—and now "Bella" to six beautiful grandchildren!
The Shepherd Who Didn't Run
"How a 46-year-old priest from a small German farming community in Oklahoma came to live and die in the remote, ancient village of Santiago Atitlán, Guatemala, is a story full of wonder and God's Providence.

When Pope John XXIII requested in the early 1960s that North Americans send missionaries to South and Central America, the Oklahoma Church responded.

In 1964, the then-Diocese of Oklahoma City and Tulsa took over the care of the church of Santiago Atitlán, the earliest parish in the Diocese of Sololá dating back to the 16th century. But no resident priest had served the indigenous Tz'utujil community of Santiago Atitlán for almost a century…

From the onset, that first Oklahoma missionary team understood that the Tz'utujil are an agricultural people who retain much of their ancient Mayan culture and pride. This was a perfect fit for Father Stanley Francis Rother, a farming boy from the western Oklahoma town of Okarche.

When he arrived at Santiago Atitlán in 1968, Father Stanley instantly fell in love with the volatile and stunning land of volcanoes and earthquakes, but above all, with its people. His Tz'utujil Indian parishioners called him "Padre Apla's," which translates "Francis" or "Francisco" in the native Tz'utujil language…

Once Guatemala's civil war found its way to the peaceful villages surrounding beautiful Lake Atitlán, many people, like Father Stanley's own catechists, began to disappear regularly.

Father Stanley's response was to show his people the way of love and peace with his life. He walked the roads looking for the bodies of the dead to bring them home for a proper burial, and he fed the widows and orphans of those killed or "disappeared."
Yet it was living these works of mercy that put Father Stanley on a death list.
"In his final Christmas letter to Oklahoma Catholics published in two diocesan newspapers in 1980, Father Stanley concluded, 'The shepherd cannot run at the first sign of danger. Pray for us that we may be a sign of the love of Christ for our people, that our presence among them will fortify them to endure these sufferings in preparation for the coming of the Kingdom'."
Servant of God Father Stanley Rother was shot to death in the rectory of his parish church on July 28, 1981. His cause for sainthood is currently under review.
This past June (2015) a panel of nine theologians handed a majority vote affirming that Fr. Stanley Rother's death was in
odium fidei
, or in hatred of the faith. And now a panel of 15 cardinals and archbishops must approve the martyrdom cause. This is where we are today, waiting on this vote.
To learn more about this excellent book visit the author Maria Scaperlanda
here
.
Check out Our Sunday Visitor
here
.